Hair Loss Testimonials*
---
1/5/22
The staff at Murray Avenue Apothecary are amazing and so very helpful. They are kind and take their time to answer any question you may have. The owner, Susan took the time to call me back to speak to me and answer all of my questions regarding hair loss solutions. Thank you again Susan and team for your expertise and assistance
- C.S.
---
Minoxidil
12/7/21
"Good morning,
Just wanted you to know i am having great results with the Minoxidil 30% and Dutasteride. Happy Holidays! Thank you."
- C.P.
---
Finasteride/Minoxidil
I first noticed hair thinning in my late teenage years and by the time I was twenty nine, I had gone very thin on the top of my head. I decided to consult a dermatologist who confirmed I had male pattern baldness. Most of my uncles and my father had gone bald before they were thirty. The dermatologist explained my options regarding Propecia, a drug that stops male pattern baldness. I was hesitant taking an oral drug daily.
I used The Medical Wellness Center in order to obtain the prescription for the Murray Avenue Apothecary compound hairloss lotion.

Murray Avenue Apothecary recommended their topical lotion containing Propecia (Finasteride) and minoxidil with other anti androgen blockers. I used their 15% minoxidil with added 0.1% Finasteride, 5% azelaic acid, 0.25% progesterone, 0.025% tretinoin, 0.1% hydrocortisone in the morning and their 5% plain minoxidil at night. I also incorporated a 1mm derma roller and ketaconazole shampoo.
After eight months there was sign of major improvement, which has continued to get better over time. My hair feels thick and looks like my early teenage years. I am much happier and confident, people would not think I had male pattern baldness hairloss. I highly recommend Murray Avenue Apothecary for any hairloss treatment, A+++.
- J.B.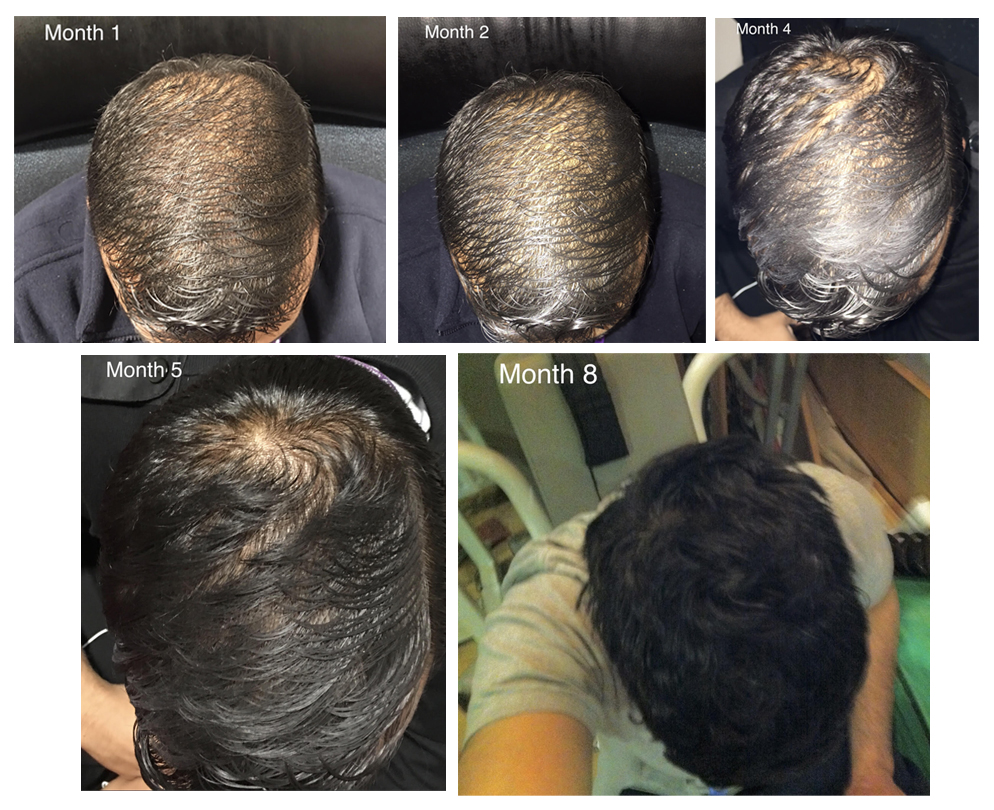 ---
Glutathione/Biotin Topical
"I use the minoxidil (product made by your pharmacy) sparingly, and the Acetyl Glutathione/Biotin liquid I use on my crown and top of head as well as temples. I believe it has really helped my results. Thank you so much. I'm very careful with the minoxidil and I'm aware of its side effects. Thank you so much for this product. Its been a life changer and I no longer worry so much about my hair. I cannot recall a time since I was a teenager that my hair has looked this good, and I'm barely six months in. Its so great and I cannot thank you enough!"
- J.
---
5% Spironolactone Cream
"I've been using the 5% [Spironolactone] cream for a few weeks now and very much like it. It comes in a tube (like toothpaste) and has a pleasant smell. When you order you can choose between 3 scents: Green tea (morning fresh), Tuscany (woodsy), or Powder (baby powder) and I chose Green tea. The prescription from Medical Wellness Center is good for 6 refills that expire in a year's time. The label says to use within a 2 month window...I might go for the alcohol solution on my next order just to check it out...It's true the cost, about $100, is expensive compared to S5 cream but at $50 / month it is affordable!"
— bald2thbone
---
Topical Finasteride and Topical Glutathione/Biotin
"The topical finasteride is fantastic, I didn't expect this. It made my hair amazing from the first use, I don't even know how it's possible. Every time I put it on my scalp I can style my hair in ways that I was never able to. I'm curious what it'll do in a few months. Anyway it's magic in a bottle!"
— T.B.
---
Topical Minoxidil
"Susan and her lab staff have been compounding Minoxidil formulas pursuant to an RX from a licensed prescriber since 1995. Although it is not legal to "name" a compound such as "X", Susan and her team have had much experience and expertise with this type of formulation.
Her first experience with hair loss compounding happened over 25 years ago at an independent pharmacy when she was crushing Minoxidil tablets and filtering through a Mister Coffee Filter! Over 34 years later with a state-of-the-art lab on the premises of her Apothecary, certified technicians and pharmacists keeps up with new compounding trends and hair loss treatments."
- A.
---
Topical Minoxidil
Response to Minoxidil treatment described: "Fantastic response. Not only do the results achieved by Dr Klein's formulations appear to have improved, but there is absolutely no itching or build-up of white precipitate following applications. Effect seamless, with no shedding apparent. If anything, growth appears improved in relation to Dr. Klein's formulations."
"thinning on the crown at age 32-33, in the Autumn (Fall) and Winter of 2009-2010. Began treatment via Dr. Lee's formulation in February / March 2010 with excellent results. However, found I was allergic to PG after circa two to three months of application. His non-PG solutions worked brilliantly. After Dr. Lee ceased working, I obtained Promox 5% spray without PG from Dr. Klein, which likewise exhibited great efficacy. When Dr. Klein passed away, I switched to your / Susan's brilliant formulations, which appear to be the best in terms of outcome and kindness to the scalp. My hairloss is now effectively "invisible"! It is thus hard to choose from the Norwoood scale. However, my thinning would have suggested class 2, albeit without much recognizable recession at the front."
N.N.
---
Progesterone Leave-In
"The Progesterone is really growing my hair back. Even the hairline is coming in better. Hairline was bad for decades though, so I don't expect all of it back."
---
Topical Minoxidil
"I was classified a NW 6 to NW 7 before using your 30% Minoxidil. I think I'm at a NW 4 now. Last year I posted my 'Before' pics on Realself.com to see what kind of results I might get from a hair transplant. Hair transplant Drs told that I was a "Bald Man" and to just accept it. Thanks to your product that's no longer the case."
— A.G.
---
Stimulating Shampoo and Conditioner
"Thank you Susan, you are the best! The shampoo/conditioner is awesome! I love it! It makes my hair feel and smell superb! I will start the other products in my regimen, and get more hair than I already have. I can't wait! Thank you for making my day!"
— J.B.
---
Topical Minoxidil
"Your product Minoxidil is one of the best I have ever used."
— M.R.
---
Topical Minoxidil
"After only 2.5 months of your minoxidil compound coupled with vitad3 and iron tablets, (also vita c), I am pleasantly shocked to see actual growth in my widow's peak patches. Still mostly stubble, but a few strands of normal length hairs are stemming from those areas! I had not really planned to look closely until approximately 4 months of use, yet I can't help but notice each night as I apply your solution to those areas."
— J.S.
---
Topical Minoxidil
"I am currently receiving your lotion for hair loss, and it has been amazing; in addition to seeing new hair growth, it has stopped hair from falling out by at least 90%. It has been a blessing for me."
— E.O.
---
Dutasteride
"I just wanted to write and let you know that the dutasteride topical you made for me was extremely effective. I wanted to drag it out so I applied it once per day with minoxidil for the other application (I had been using minoxidil twice per day). Within the 60 days, I have regrown an astounding amount of hair, I kid you not. My temples are substantially fuller and what was once a bit of a bald spot is no more. Just wanted you to know that your efforts were worth it. I have learned of a few people who are mixing one capsule per day with 30 ml of aloe and using it with good results. I'll give that a try to see if I can keep what your mixture has given me and perhaps grow more.

Again, thank you..."
— A.S.
---
Topical Minoxidil
"I have been using compounded minoxidil 12.5% with retinoic acid, which I obtain from your pharmacy, for over a year and a half. I use this in combination with Propecia, and laser light treatment a few times a week with the LaserComb. I wanted to let you know how pleased I am with the results. I had a series of hair transplants during the period from 1994-1999, with almost 2,000 grafts, plus a scalp reduction at the crown. You may know that, while transplanted hair does grow, it is almost always much thinner than when it was growing in the original spot. I was never really quite happy with the final results of my multiple hair transplant surgeries, since the transplanted hair was very thin looking, lifeless, dull, flat, and prone to fly up with the smallest breeze.

I started using the compounded minoxidil, the Propecia, and the laser comb at about the same time in the first half of 2004. Since I have been on this regimen, my hair has been transformed dramatically, becoming much more full looking, both in quality and quantity. It has never looked better, and it appears, basically, to be a normal, healthy, full head of hair, with plenty of body and shine. I have never been happier about my hair. And as you may know, for men, losing our hair is a very traumatic experience. So thanks very much for providing me with the compounded minoxidil. I really appreciate it."
— M.M.
---
Topical Minoxidil and MAA Supplements
"After only 2.5 months of your minoxidil compound coupled with vitamin D3 and iron tablets, (also vitamin C), I am pleasantly shocked to see actual growth in my widow's peak patches. Still mostly stubble, but a few strands of normal length hairs are stemming from those areas! I had not really planned to look closely until approximately 4 months of use, yet I can't help but notice each night as I apply your solution to those areas."
— John
---
Topical Minoxidil
"Everything surpassed my expectations, by far. And this is only the third batch you made (with the levels of Prog). Have to thank Susan and her staff, for going above and beyond. I'm definitely very happy with this product. I was going to pick it back up in the Spring, but I might even pick it up earlier than that, after the last package."
- K.
---
Murray Avenue Apothecary/Hair Loss
"The service at Murray Avenue Apothecary is incredibly amazing..They are incredibly knowledgeable on hair loss and hair loss compounding and answered all of my questions..they made me feel comfortable about the quality of the ingredients and the process they go through to ensure I receive a high end product that will work. Thanks again for everything you do!"
-G.C.
---
Minoxidil
"..He started using MAA's Minoxidil Compound around June/July 2020, the thicker picture was taken January 2021."
- J.B.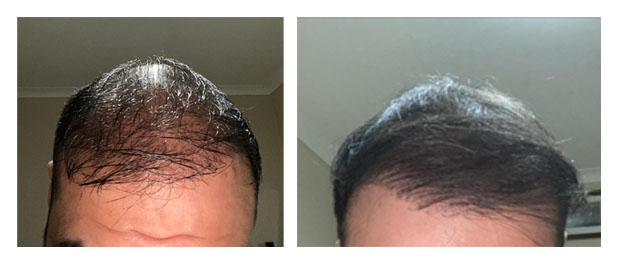 ---
*In accordance with the FTC guidelines concerning the use of endorsements and testimonials in advertising, please be aware of the following:
Testimonials appearing on this website are received in various forms via a variety of submission methods. The testimonials reflect the real life experiences of individuals who used our products and/or services. However, individual results may vary. We do not claim, nor should the reader assume, that any individual experience recounted is typical or representative of what any other consumer might experience. Testimonials are not necessarily representative of what anyone else using our products and/or services may experience. The results may vary. The testimonials displayed are given verbatim except for grammatical or typing error corrections. Some testimonials may have been edited for clarity, or shortened in cases where the original testimonial included extraneous information of no relevance to the general public. Murray Avenue Apothecary is not responsible for the opinions or comments posted on this website, and does not necessarily share the opinions, views or commentary of postings on this website. All opinions expressed are strictly the views of the poster or reviewer. All testimonials are reviewed for authenticity before they are posted for public viewing. Testimonials on this website are not intended, nor should they be construed, as claims that the products or services mentioned can be used to diagnose, treat, cure, mitigate or prevent any disease. To the contrary, our products are not intended to diagnose, treat, cure, or prevent any disease. No testimonial has been clinically proven or evaluated, and no medical claims whatsoever were made and no statements on this website have been evaluated by the FDA.