March is National Nutrition Month!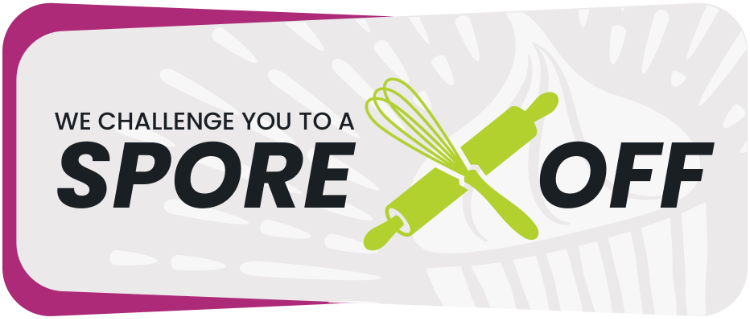 March is National Nutrition Month®, a time to focus on nutrient-dense foods, hydration, new flavors, and microbiome-friendly choices.

Microbiome Labs is getting in on the fun… and you're invited to join us!

We'd like to challenge you to make one spore-based probiotic recipe this month, then share it with us on social media with the hashtag #CookMoreSpores.

You can easily add 1-2 capsules of MegaSporeBiotic™ to cold recipes, as we've done in some of the recipes in this email. Our spores are also heat stable up to 450 degree, so we'd love to see your warm meals, breads, and baked desserts too!

Endospores create a resilient outer coat of armor that is resistant to extreme heat, acidity, radiation, and chemicals.

The spore form ensures that spore-based probiotics effectively colonize the gut to maintain total-body health in the countless ways they have been since the dawn of humankind. These superior-grade spores can support in the following ways:
Support healthy immune balance and function
Maintain strong adhesion and colonization in the gut
Support a healthier gut lining
Support increased microbial diversity
Maintain a healthy balance of desirable and undesirable microbes
Support optimal digestion and absorption
Provide support for proper bowel function, gut motility, and transit time
So, whether you're adding a capsule of MegaSporeBiotic™ to a cold meal or baking something warm and comforting, rest assured knowing that your stable spores will be supporting your gut microbiome either way.
---
HERE ARE 9 REASONS TO CHOOSE MEGASPOREBIOTIC:
1) Microbiome Labs formulated and brought to market the first-ever 100% spore-based, multi-spore probiotic. This was an innovation that changed the probiotic landscape.
2) It's the most requested and most utilized probiotic by health care practitioners, based on the sales of one of the largest distributors in the natural medicine space.
3) There are 6 published, peer-reviewed, randomized, controlled human studies on the finished formula.
4) Instead of heavily focusing our revenue into marketing, we reallocate significant profit back into evidence-based research.
5) We don't rush things: we took over five years to research and formulate this product to make sure it was effective.
6) Because we highly value research and we are founded on science, we have 12 additional studies underway.
7) It's clinically shown to support healthy intestinal barrier function and leaky gut in just 30 days.*
8) It supports more than just the gut: studies show that this spore-based probiotic also supports healthy skin, metabolism, and liver function.
9) It's a vital component in our Total Gut Restoration System, which reconditions, reinforces, and rebuilds the gut when used together.
---
Spore-Off: Probiotic Recipes for Gut Health
Berry Layered Overnight Oats
Servings: 1
Ingredients:
½ C old fashioned oats
½ c almond milk
¼ C vanilla almond milk yogurt
1T chia seeds
1 capsule MegaSporeBiotic™
½ banana, sliced
5 raspberries
8 blueberries, muddled
1T raw cacao nibs
Directions:
Combine oats, almond milk, yogurt, chia seeds, and MegaSporeBiotic™ capsule in a bowl.
In a mason jar, layer the following: ⅓ of the oat mixture, the blueberries, ⅓ of the oat mixture, the bananas, ⅓ of the oat mixture, and then the raspberries and cacao nibs.
Refrigerate for at least 4 hours
---
Synbiotic Matcha Loaf
Servings: 8
Ingredients:
2 eggs (or make a vegan flax egg)
2/3 cup avocado oil
2/3 cup maple syrup
1/3 cup oat milk
2 cups gluten-free flour
1 tsp baking powder
1/2 tsp salt
1.5 Tbsp matcha powder
2 capsules of MegaSporeBiotic™

Directions
Preheat oven to 325 degrees F
Mix dry ingredients together in a large bowl and set aside
Mix wet ingredients together in a medium bowl
Stir wet ingredients into the dry ingredients
Scrape batter into a greased bread loaf tin
Bake for 45-55 minutes until an inserted toothpick comes out clean
Enjoy!
---
Spore-Powered Chocolate Protein Cups
Servings: 12
Ingredients:
2T coconut oil
¼ C peanut butter
¼ C almond butter
2 scoops of chocolate protein powder
3T raw cacao powder
1T honey mixed
1 capsule MegaSporeBiotic™

Directions:
Melt the coconut oil.
Combine the melted coconut oil, peanut butter, and almond butter.
Combine the honey with the capsule of MegaSporeBiotic™ and then add it to the nut butter mixture.
Whisk the protein powder and cacao powder into the nut butter mixture.
Scoop into silicone molds and freeze for two hours.
Don't forget to tag us on social media with #CookMoreSpores (and @maapgh) so we can see your creations!