Get to Know Murray Avenue Apothecary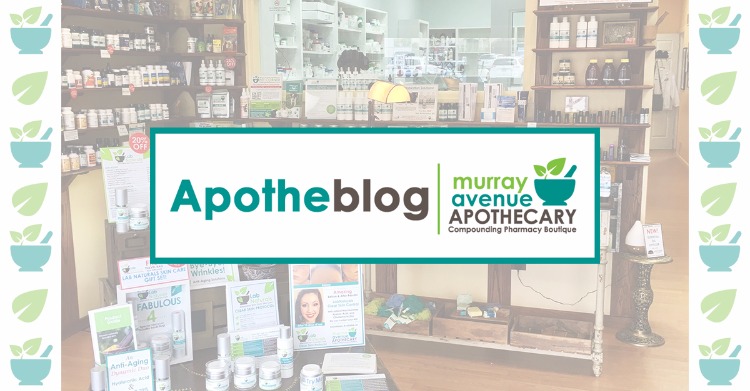 Get to Know Murray Avenue Apothecary
Dear Friends,
Many of you have been reading my articles in the Hazelwood Homepage for several years and others of you have newly discovered that column as a place to learn about Health, Wellness, and what a local Pharmacy can do for you and your family.
Since many of you may not be fully aware of everything my staff and I do in our small community pharmacy I thought this would be a nice opportunity to share an interview I did about our "hidden gem."
KATE: Murray Avenue Apothecary, a compounding pharmacy boutique is located at 4227 Murray Avenue in the South Murray Shops of Pittsburgh. Their business hours are Monday through Thursday from 10am to 6pm and on Fridays from 10:00am to 5:00pm. With over 36 years of pharmacy and clinical experience, pharmacist and owner Susan Merenstein has always been cutting edge in Pharmacy Compounding, Health, Wellness, and Consultation Services. Susan, tell us how Murray Avenue Apothecary stands apart from other pharmacies?
Susan: Kate, our mission at Murray Avenue Apothecary is to create a triad of holistic health between the physician, pharmacist and patient. In our pharmacy practice, we provide customized compounded medication solutions and wellness services to meet the individual needs of each patient. Our friendly, knowledgeable, and dedicated staff are always here to help our clients find solutions to their health and wellness problems.
Our compounding technicians are state certified and trained to work in our state of the art on site lab. Our Lab Manager Karen spends the day mixing and compounding prescriptions with the help of Josie our new lab technician. Karen has a wonderful sense of humor and a seemingly endless knowledge of music, movies, and TV shows. Josie is very involved in her community and helps organize charity drives through her church. Josie was born in Haiti so you might even catch her speaking French from time to time. If you stop by the Apothecary you can watch these two at work in the lab though our large glass viewing windows.
We have high standards at the Apothecary and send our compounds for third party testing to provide the efficacy and stability that our practitioners and patients deserve. We dispense our topical compounds in unique metered dosing devises for perfectly measured doses every time! We offer One-on One Consultations including Hormone Balancing, Sexual Health, Skin Care, Hair Restoration, and Nutrition. We also carry a wide range of Pharmacist-picked private label supplements for people and pets, including our new CBD products, paying close attention to individual food sensitivities and allergies. We are Pittsburgh's Pet Pharmacy and we take the "bite" out of animal dosing with a little love in every compound. As Pittsburgh's only Green Pharmacy, we are proud to do our part to make our city and planet a more sustainable place to live a healthy lifestyle.
KATE: What is a Green Pharmacy?
Susan: As Pittsburgh's only Green Pharmacy, we encourage you to join our eco-efforts! Every day is Earth Day at Murray Avenue Apothecary. "Being green" means we use recycled containers, only vegetarian capsules, and no gluten or lactose fillers. We pay close attention to clients' unique sensitivities, allergies, and dietary restrictions while also being eco-conscious. We have a Free Recycling Program that encourages everyone to get involved! Recycle your prescription vials, bottles, and other plastic medication containers and reduce your carbon footprint. Doing just one small thing helps to reduce the garbage in landfills, maintain our natural resources, and keep our earth beautiful!
Kate: Susan, you have said that hormones are at the base of our foundational health. With so much information out there, how can you help women and men feel balanced and feel better?
Susan: My motto has always been: "Be aware of your symptoms, get educated, and be proactive about your health!" The thyroid, adrenal glands, and sex steroids, do not operate separately; they are like a symphony – when one of the instruments is "out of tune," the whole orchestra suffers! I coined the term Gentle Hormone Restoration Therapy because we want to gently nudge our hormones instead of overtaking our delicate hormone systems with pharmaceuticals. As one physician told me, "hormone therapy can have life-saving implications."
At the Apothecary, we offer an array of over the counter testing done in your own home, including saliva, blood spot, toxicity, and neurotransmitter testing. Each person is unique and will respond to hormone therapy in his or her own way. Lifestyle changes, patience, compliance, and follow-ups are crucial to ensure the best outcomes.
At Murray Avenue Apothecary, we want to partner with you and your physician to enhance your health and well being. Get started today by going to maapgh.com. Fill out our easy online evaluation form and click "Submit." Our pharmacy technician Sue will promptly contact you to set up your One-on-One Consult with our Clinical Pharmacist. Sue has been with the Apothecary for several years and helps each and every person through the consultation process. Available by phone or email, Sue is here to help, and without her the Apothecary as a whole wouldn't run nearly as smoothly. Sue loves the outdoors and hiking the summits of the west coast mountains. She also runs marathons and embraces the healthy lifestyle choices we promote here at the Apothecary.
KATE: Susan, hair loss is an all too common condition with dramatic effects on men and women. Does Murray Avenue Apothecary offer any hair regrowth treatments?
SUSAN: Thinning of the hair, or alopecia, occurs in approximately 30-40% of adults, both men and women, and can be caused by many factors, including genetics, hormonal imbalances, stress, and our toxic world. Our pharmacists and certified technicians have been compounding Minoxidil and its additives, for over 20 years and we have the expertise and testing to prove the efficacy and potency of our compounded products.
We also carry our own brand of organic Stimulating Shampoo and Conditioner. Their revitalizing and nourishing properties increase circulation, adding strength and body. We have many creative solutions to this agonizing problem and we want you to look and feel your best! Thankfully about a year ago I found Dr. Claudia Ames, PharmD. Claudia does a lot with our hair restoration clients and she is here to help anyone who comes into the Apothecary with questions for a pharmacist. She recently got married and loves doing makeup in her spare time, which is one of the reasons she always looks fabulous. I can't imagine the Apothecary without her.
KATE: Murray Avenue Apothecary carries an exclusive, affordable non-toxic skin care line called Lab Naturals. From Anti-aging to Acne, could you tell us more about Lab Naturals?
SUSAN: Did you know that women unknowingly absorb over 165 chemical toxins into their bodies each day in their beauty routine? LabNaturals products are always free of toxins, preservatives, and dyes with outstanding results! Dream away your wrinkles with our luxurious Dreamy Night Cream. Then, in the morning, apply Vitamin C 20% Skin Serum and Daytime Firming Peptide Lotion to start your simple skin care regimen.
KATE: Susan, I am so curious and excited to hear the buzz about your Sexual Health Boutique.
SUSAN: After doing Hormone Consultations with women and men over the last 16 years I realized that there was a need for sexual health education in my clients and the community I serve. I created the Sexual Health Boutique at Murray Avenue Apothecary to provide an intimate space for education, consultation, and private shopping. We get referrals from doctors, gynecologists, physical therapists, and certified sex therapists to help clients achieve Optimal Sexual Health and Hormone Balance. With my years of expertise, I can help you choose the right products and services to help you achieve sexual fulfillment.
KATE: Susan, you are Pittsburgh's Pet Pharmacy! How can you help our beloved furry family members?
SUSAN: Well we take the "bite" out of animal dosing!We work with all veterinarians to compound custom medications with flavors or transdermal prescriptions that are applied topically in specialized dosing devices. We carry our own brand of chewable pet vitamins called Dog Multi and Cat Multi. Each is specifically formulated with a balance of vitamins, minerals, amino acids, enzymes, and antioxidants that all work together to help maintain your pet's physical and mental wellbeing. Our Flea & Tick Spray is a natural repellent to protect both pets and people from fleas, ticks, mosquitoes, and flies! We compound an over-the-counter product named for my 17-year-old dog Ralph called Ralph's Immunity and Inflammation Formula which contains Acetyl-Glutathione. It's for inflammation, arthritis, asthma, liver disease, and aging in your cat or dog. Our Animal Digest compound is a "life saver" for your pet's digestion and absorption maladies, diarrhea, hot spots, and allergies. Visit us online at PittsburghsPetPhamcary.com to learn about our famous Corn and Callus Cream treatment. We love animals at the Apothecary and we welcome your pet for a visit to try one of our many flavors and get a special organic treat!
KATE: Murray Avenue Apothecary is the only compounding pharmacy to provide Topical Palmitated Glutathione and Oral Acetylated Glutathione. With everyone trying to live longer how can Glutathione help?
SUSAN: When you think of Glutathione, think A.I.D. – Antioxidant Master, Immune booster and Detoxifier extraordinaire of our liver and every cell in our bodies. The human body is challenged to detoxify 24 hours a day! Anyone with a chronic ailment and almost everyone living in our toxic world today is deficient in glutathione. Acetaminophen, ibuprofen, alcohol, heavy metals, and all prescription pharmaceuticals further deplete glutathione in the body. Glutathione prevents telomere shortening which has been linked to aging, and chronic disease, and I plan to take it daily for the rest of my long life! Clients and doctors alike are reporting anti-inflammatory and pain relief, increased energy, positive mental activity, and a general sense of well-being and detoxification. Parkinson and Dementia patients are getting great results too! Our mascot dog Ralph is 17 and has been taking Glutathione for a long time!
KATE: Murray Avenue Apothecary sounds like a great solution to so many of the issues facing people in healthcare today, but what if you can't make it to the pharmacy or you don't live in Pittsburgh?
SUSAN: Not a problem! You can shop online 24/7 and we ship! Even internationally! Every package is checked and hand packed by our shipping and inventory expert.

KATE: Now you mentioned CBD products. What is CBD?
SUSAN: CBD is an astonishing component of the Cannabis plant. It is extracted from industrial hemp and refined into products that show benefit in treating pain, inflammation, insomnia, anxiety, and over 40 other conditions! We have done exhaustive research into CBD and have found the best products to carry in the Apothecary. We've written blogs about it and have seen many great results from clients such as: pain, arthritis, anxiety, skin disorders, neuropathy, and neurodegenerative disorders all showing improvement. CBD is new and gaining traction in the medical community and we are proud to be at the forefront of this revolution. Our new graphic design and marketing manager, Drew, has been instrumental in assisting with all of our research and creating signs, banners, and newsletters to get the word out about these exciting products. He's also an artist, philosopher and local printmaker. I'm not sure what we would do at the Apothecary without his can-do attitude and honest advice.
KATE: Thank you so much for your time Susan. Is there anything people should know about Murray Avenue Apothecary?
SUSAN:
The most important thing for people to take away about Murray Avenue Apothecary is that we are here for them. We are a small community pharmacy who cares. It's not about churning through customers to get you in and out so fast your head spins. We want to know how you're doing, how your family is doing, and most of all is there anything else we can do to help. If you haven't had the privilege of walking into Murray Avenue Apothecary and meeting Claudia, Sue, Trish, Laura, Karen, Josie, Drew, or myself I encourage you to stop by. As Mr. Rogers always said, "It's a beautiful day in this neighborhood…Please won't you be my neighbor?"
To your Health,
Susan
Susan Merenstein, Pharmacist and Owner
Murray Avenue Apothecary
4227 Murray Avenue
Pittsburgh, Pa. 15217
412-421-4996
MAApgh.com
LabNaturals.com
labnaturalscbd.com
PittsburghsPetPharmacy.com
Celebrating 10 Years of Holistic Health and Pharmacy Innovation